09 Sep

Diamond Glow

A simple 45 minute, 3-in-1 treatment not only gives your skin a deep clean and addresses skin concerns like acne, but it also imparts a gorgeous, dewy glow that reveals your skin's true radiance!

DiamondGlow™ is more than a facial. Unlike traditional facial treatments, which rely on chemical exfoliation to treat skin at surface level, DiamondGlow's™ patented recessed diamond tip wand delivers a next-level resurfacing treatment that deeply cleans and rejuvenates the skin.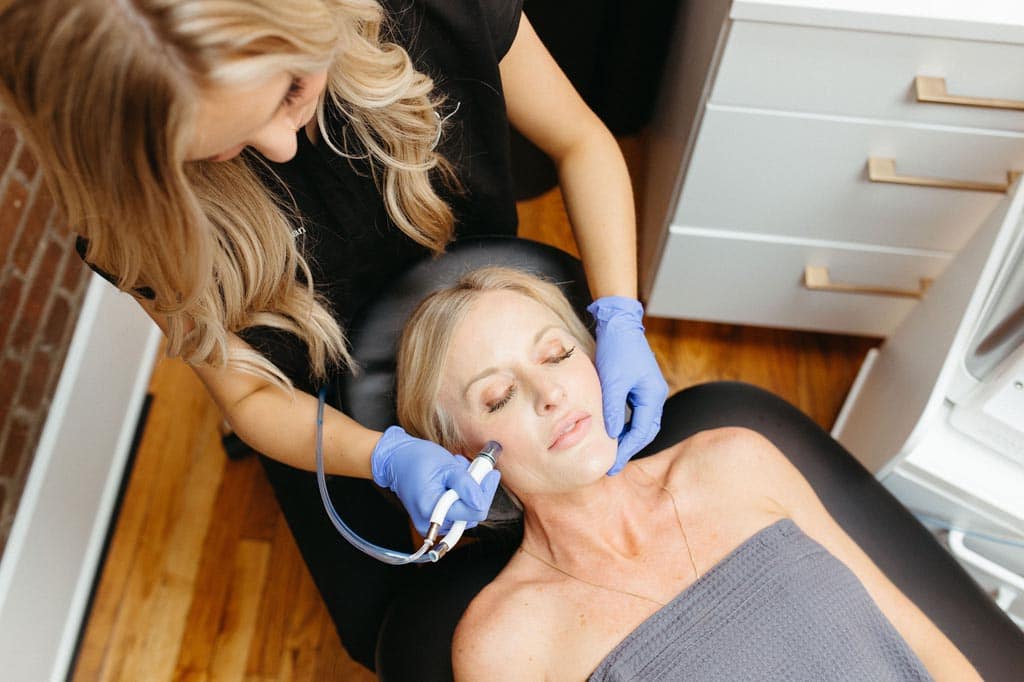 How does DiamondGlow™ work?
The DiamondGlow™ handpiece is gently moved across the skin to remove dead skin cell build up. While the diamond tip lifts away surface debris, a closed-loop vacuum pressure system simultaneously carries it away. As it does this, it also infuses your skin's surface with a deep cleansing solution that banishes bad bacteria and softens the appearance blackheads while aiding in further extraction. DiamondGlow™ is an elevated experience of deep cleaning.
What skin conditions can DiamondGlow™ treat?
DiamondGlow™ treatments are suitable for all skin types and conditions. Your aesthetician will customize your treatment with a special SkinMedica® serum that is designed to be infused deep into your skin. This means you get all the radiance-boosting benefits of DiamondGlow™ and improvement to your specific skin concerns.
What kind of results can I expect with DiamondGlow™?
Immediately after your treatment, your skin may be slightly flushed, dewy, and absolutely glowing. This glow is why many people decide to have a DiamondGlow™ treatment right before a special event. While results can be seen after only one treatment, a series of multiple treatments are recommended for visible improvements to conditions like acne, sun damage, and fine lines.
Is DiamondGlow™ part of the Allē Rewards Program?
YES! Because DiamondGlow™ is owned by Allergan, the creator of Botox Cosmetic®, you earn points with each treatment you receive that can later be used towards your next Allergan purchase. (SkinMedica® skincare, Latisse®, Kybella™, Juvéderm, etc.)
Not a member of Allē yet? Join HERE.