21 Mar

Treating Hyperpigmentation
Pigmentation Consideration
Hyperpigmentation is a common, usually harmless condition in which patches of skin are darker than the surrounding skin. This condition can occur in distinct lesions, small patches, or cover much larger areas of the body. A few specific examples include freckles, birthmarks, sunspots, age spots, dark patches, seborrheic keratosis and melasma.
Here at Brooke Nix Medical Aesthetics, we can treat hyperpigmentation on the face, neck, chest, arms, legs, and targeted lesions throughout the body. Your initial appointment will begin with a consultation from one of our specialized providers. Having worked in Dermatology for 10 years, Brooke Nix has been able to offer her knowledge and advanced training to her colleagues to be able to recognize and appropriately diagnose the distinct types of skin pigmentation. All lesions will be classified as benign or suspicious, in that case they require further evaluation. As there are numerous treatments to target hyperpigmentation, your provider will create a custom plan to effectively target your skin concerns moving forward.
Book Now
Treatment Options at Brooke Nix Medical Aesthetics
Chemical Peels
Your provider will determine the appropriate peel based on your skincare concerns. We offer several options for chemical peel treatments:  VIPeel, PCA, SkinMedica, and SkinCeuticals.
Laser Options: IPL, Photofacial, BBL, 1064, Laser Genesis
Excellent treatment for removal of brown pigmentation and red pigmentation such as telangiectasia (broken capillaries), rosacea, sun damage, angiomas, and sunspots.  These treatments are perfect options for the fall and winter months as patients receiving treatment cannot have direct sun exposure. 
Juliet Lesion Removal/Finesse Lesion removal
Juliet Laser: ablative resurfacing laser removing the lesion in its entirety; perfect for stubborn raised lesions. Finesse: a radiofrequency device that helps to target thicker raised lesions such as fibrous papules.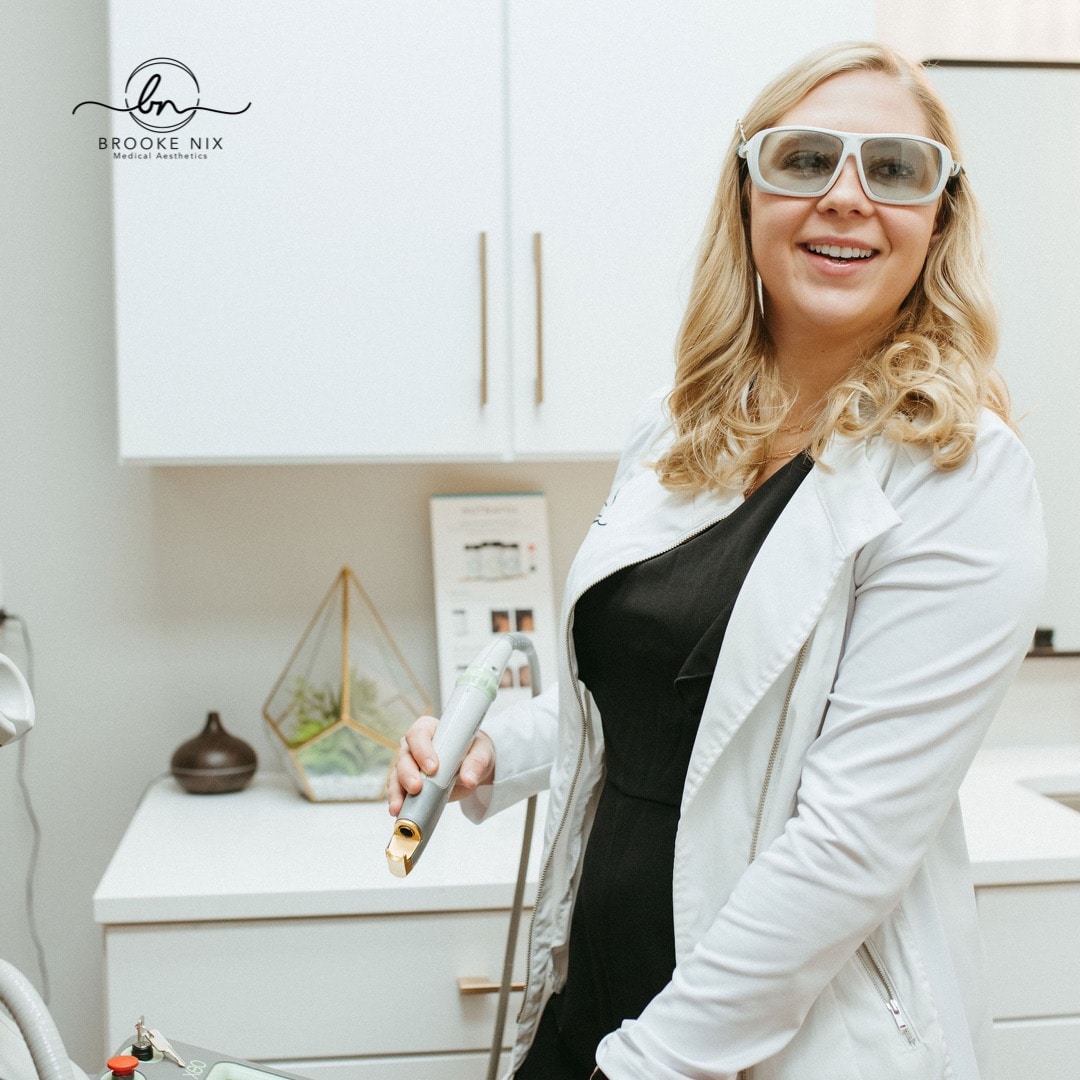 Juliet Skin Resurfacing
Full face fractional laser resurfacing removes any precancerous lesions such actinic keratosis, freckles, and provides significant textural improvement to pores, scarring, or fine lines and wrinkles.
SkinCeuticals CryoPen
CO2 cryogenic spot treatment: this device is significantly less aggressive than the standard liquid nitrogen meaning once the lesion is healed that there will be no hypopigmentation.
Key Components to Treat Hyperpigmentation
Hydroquinone 
Hydroquinone is the key active ingredient in topical pigmentation treatment. It works best when paired with a Vitamin A such as retinol or tretinoin in a medical grade skin care regimen. We offer Obagi Clear with prescription strength hydroquinone as well as hydroquinone free products.
Prevention
Treating pigment is not just about "bleaching" the discoloration, it is also about protection and prevention. Sunscreen and antioxidants have been clinically proven to reduce the recurrence of pigmentation and protect the skin from further development of lesions and some skin cancers. We recommend zinc & titanium-based sunscreens that have a minimum of 8% of these two ingredients combined. 
In addition to its fantastic clinical studies, SkinMedica's Lumivive Day and Night system is also considered one of the best antioxidants on the market. Not only does it block harmful sun rays (UVA/UVB), it also protects against the manipulation of your cells caused by blue light. Blue light exposure comes from our phones, computers, and even fluorescent lights and is a factor leading to pigmentation that is often forgotten. 
Other products to consider for preventative purposes would be SkinMedica AHA/BHA Exfoliating Cleanser for brightening and the SkinMedica TNS Advanced+ Serum to improve and restore overall skin health.
Who is a candidate for treating skin pigmentation?
Any patient that has an unwanted lesion or skin discoloration who would like to improve the aesthetic appearance of their skin. We offer products and treatments that are safe for all skin types, including sensitive and darker skin. Book your complimentary consultation with one of our skin experts to determine the most suitable pigmentation treatment for your skin type.
Are Laser Treatments Painful?
There is mild discomfort during our laser treatments. There is no numbing involved with the IPL but it is tolerated extremely well by our patients. 
How Long Does Pigmentation Take To Fade After Laser Treatment?
Each treatment differs with regards to pigment removal. On average, full results can be seen in 4-6 weeks. However, initial results can be seen within a week. 
What Can You Not Do After Laser Pigmentation Removal?
It is ideal to avoid strenuous exercise the day of as it can increase your chance for swelling. Patients should stop their retinol and avoid exfoliating products or devices for one week before and after treatment. Sun exposure should be avoided as it can reserve the effects of your treatment and medical grade sunscreen should be used. 
What Are The Side Effects Of Laser Pigmentation Removal?
The most common side effect from laser treatment can be swelling. Patients will also experience darkening of their pigment. This is a good sign as it means the pigment responded well to the treatment. 
Can Pigmentation Be Cured Permanently?
Treating pigmentation is an ongoing process. We will be able to remove specific pigmented lesions, however, there are many factors that contribute to the development of pigment. It is common for patients to treat their pigment year-round with skincare products and require a laser treatment as maintenance.
How Many Sessions of Laser Pigmentation Removal Will I Need?
Our full treatment package consists of 3 IPL treatments. Our Juliet full face resurfacing is one treatment. Your sessions will be determined by your provider. 
Book Now
"I have had two sessions of pigmentation removal with Addison. She is knowledgeable and an experienced provider that has customized my treatment to rid of pigmentation. This treatment has really improved my self-confidence." – Lindsey N.
⭐⭐⭐⭐⭐
"Addison and team are very professional with an inviting atmosphere. She addressed my areas of concern and offered treatment options to rid my problem areas. I am so pleased with the results and look forward to maintaining glowing skin going forward." – Allison G.