09 Sep

Glow on the Go with Diamond Glow

Diamond Glow is a 3-in-1 dermal infusion facial treatment. It is designed to extract, exfoliate, and infuse a targeted serum leaving you with a hydrated glow that reveals your skin's true radiance! Diamond Glow is suitable for all skin types and most skin conditions. Your licensed provider will customize your treatment to accommodate your aesthetic goals. With no downtime, this facial treatment is the perfect preparation for any event or occasion.

Book Now
How does Diamond Glow work?
After performing a skin analysis and consultation, your provider will perform a double cleanse and decide which targeted serum is best for you. The handpiece encasing a diamond grit exfoliating tip is gently moved across the skin to remove dead skin cells and build up. While roughing away surface debris, a closed-loop vacuum system simultaneously carries excess oils away into a collection chamber. As extraction and exfoliation are being performed, a serum best fit to your skin is being infused to promote the efficacy of your treatment. After two passes across the face, your provider will reassess the treated area and finish with post treatment products.
What skin conditions can Diamond Glow treat?
Diamond Glow treatments are suitable for all skin types and most conditions. Your provider will customize your treatment by using a targeted SkinMedica® serum that is designed to be infused deep into your skin. We have serums to address skin concerns such as dullness, aging, acne, pigment, and more. Patients with severe acne may require a complimentary consultation prior to treatment.
What kind of results can I expect with Diamond Glow?
Immediately after your treatment, your skin may be flushed, dewy, and hydrated. This radiance is why many people decide to have a Diamond Glow treatment right before a special event. While noticeable results can be seen after only one treatment, a series of multiple treatments is recommended for a significant improvement to address conditions like acne, pigment, fine lines, and more.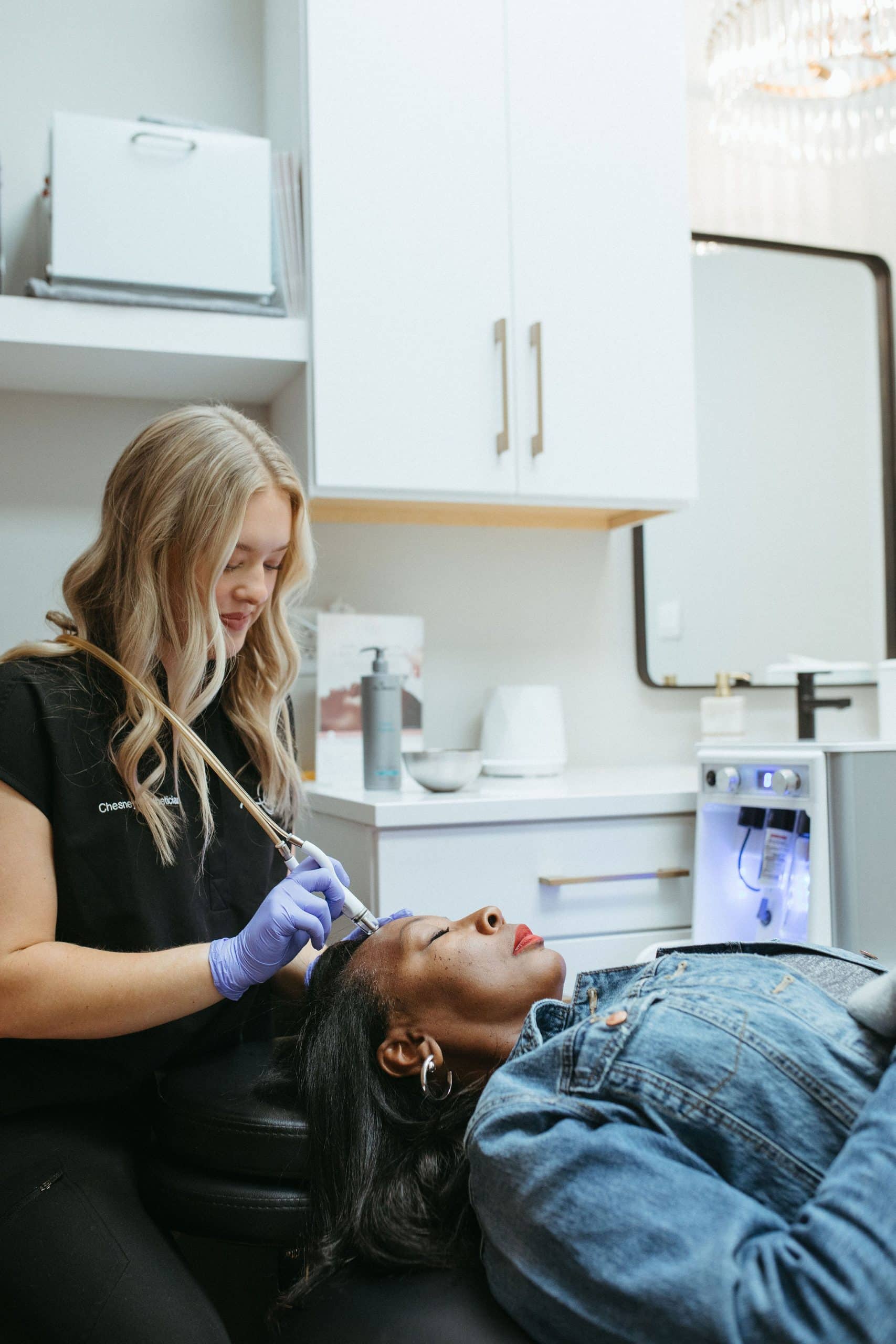 How often should you receive a Diamond Glow treatment? 
Unlike other facial treatments with a recommended monthly office visit, Diamond Glow can be performed as often as every two weeks. 
What pairs well with a Diamond Glow treatment? 
Although the Diamond Glow is great as a stand-alone treatment, our patients commonly pair it with other popular treatments. To increase your glow and obtain maximum product absorption, dermaplaning is a recommended add-on treatment to your Diamond Glow facial with no extra downtime. To prep the skin for more aggressive treatments, such as Microneedling with PRP, pre-treat with a Diamond Glow to gently exfoliate and infuse a targeted serum before treatment. 
Can I receive this treatment while pregnant or nursing?
Yes. Diamond Glow is a safe treatment for pregnant or nursing patients with the prior approval from your medical provider.
Is Diamond Glow part of the Allē Rewards Program?
Yes. As Diamond Glow is an Allergan-owned treatment, the creator of Botox Cosmetic®, you earn points with each treatment in-office that can later be used towards your next Allergan purchase. (SkinMedica® skincare, Latisse®, Kybella™, Juvéderm, etc.)
Book Now
What Our Clients Say
"Chesney is amazing! Very professional and does the best facial, but I decided to try a Diamond Glow and I am sold.  I have scheduled one monthly to maintain my skin.   I loved my experience and I highly recommend any of Chesney's services!" -Emma P. (Facebook)
"My Diamond Glow was relaxing and effective! My skin feels amazing! My provider suggested I add on dermaplaning and I am so happy with my results." -Alexandra S.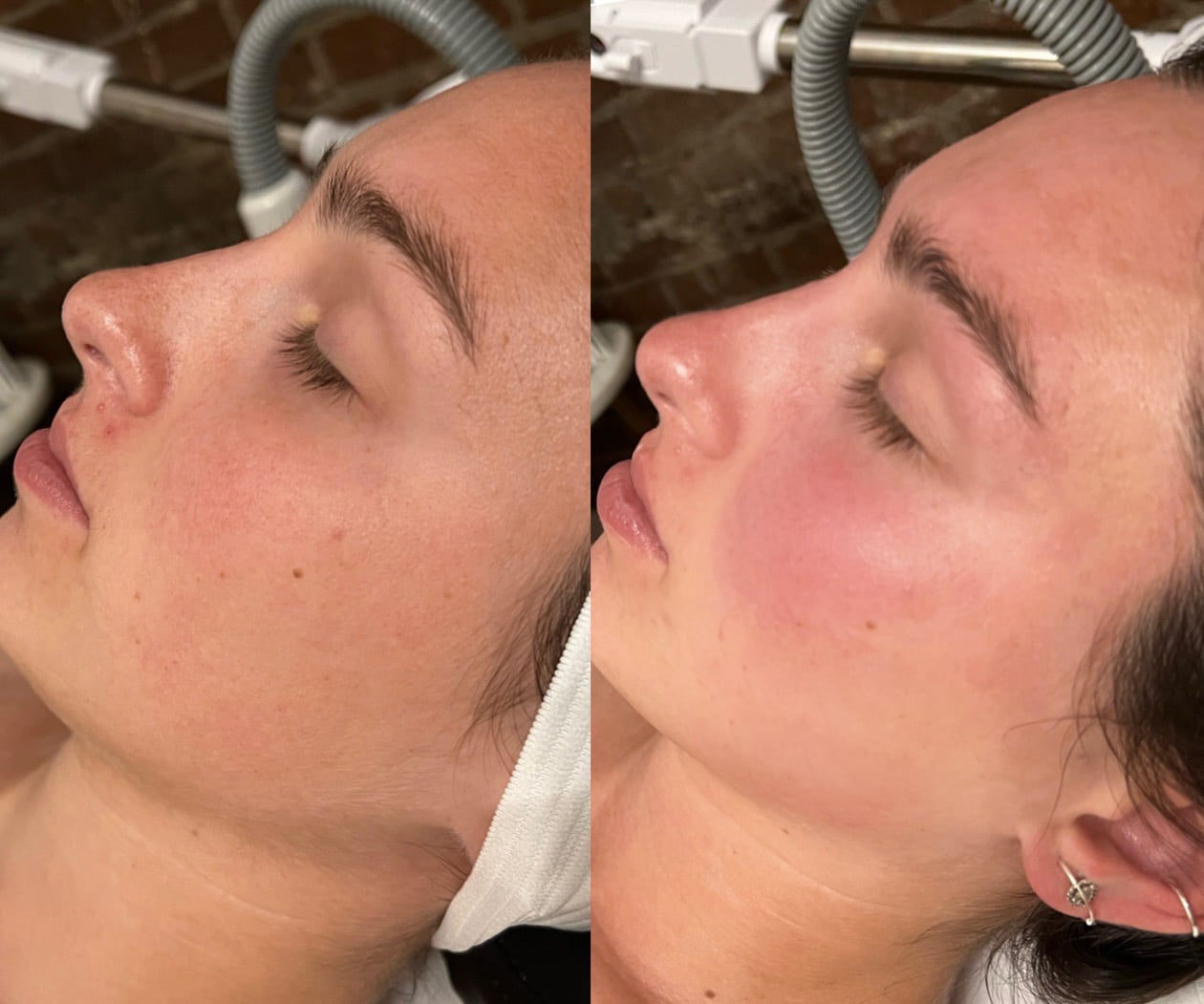 *Patient directly after 1 Diamond Glow with dermaplane add-on. Treatment resulted in mild flushing which subsided in little time.