09 Sep

Top 5 Q&A's on Dermaplaning

Dermaplaning is a safe and effective treatment for the removal of dead skin and vellus hair (peach fuzz) on the face. We offer dermaplaning as a standalone facial treatment or as an add on treatment to various facial services such as Diamond Glow, Custom Facial, or chemical peels to enhance product penetration. 

Book Now
What are the benefits of dermaplaning? 
Dermaplaning is a great exfoliating treatment that causes skin to feel smoother, brighter, and more even. It also stimulates cellular turnover which aids in anti-aging. The removal of dead skin and vellus hair allows for better product absorption giving you the most out of your treatment and at-home skincare.
What is the downtime for dermaplaning? 
Most patients experience no downtime with dermaplaning. You may resume normal activities directly after your treatment. 
Are there any contraindications for dermaplaning? 
Your provider will perform a skin analysis prior to your treatment to determine if you are a proper candidate. Common contraindications for dermaplaning include severe rosacea, raised lesions, and severe acne.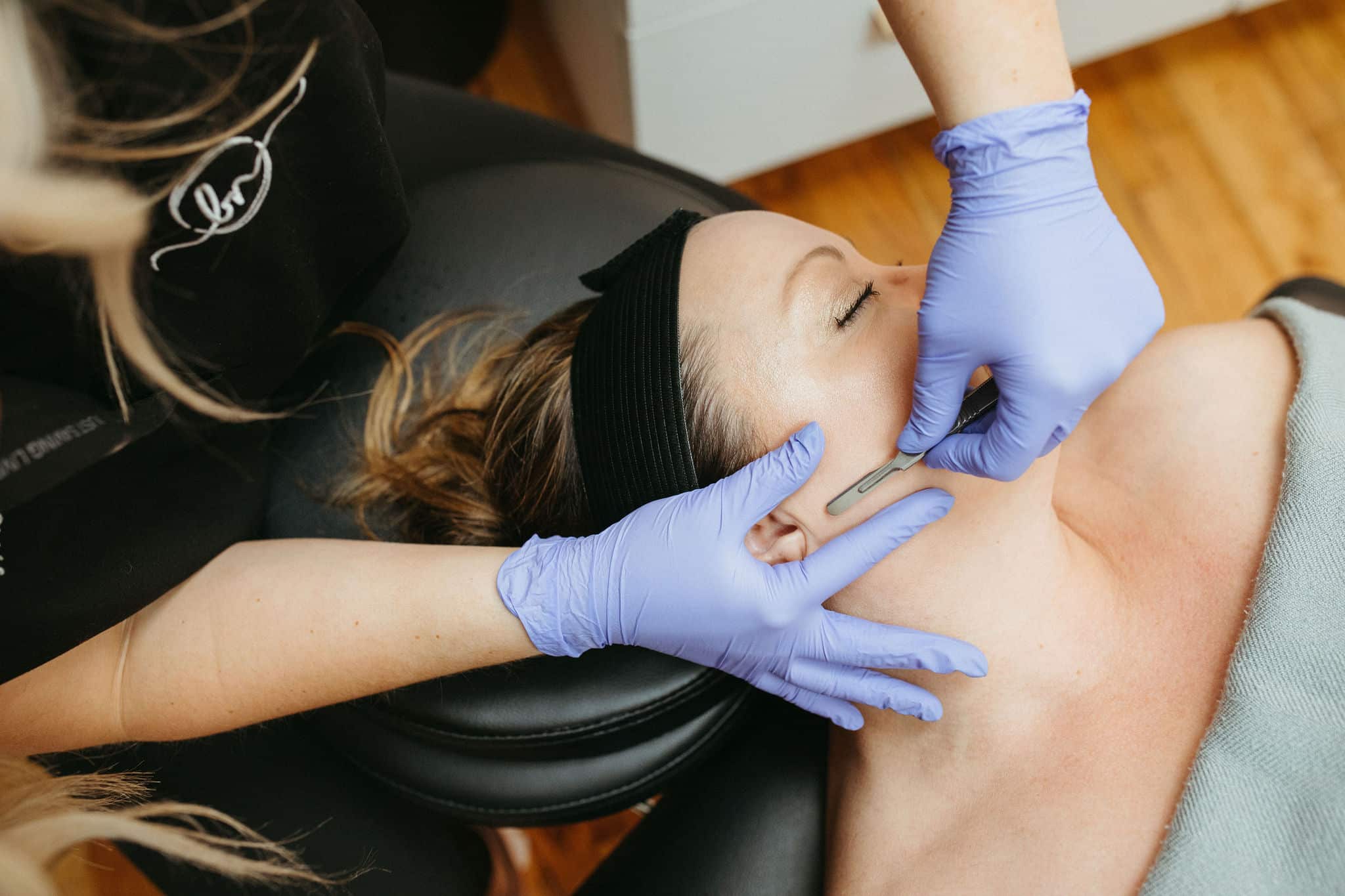 Will my hair grow back? 
Yes. With dermaplaning, we do expect the hair to return over time. Dermaplaning does not interfere with the follicular structure of your hair, thus having no effect in the change of hair growth or texture. Your hair will not come back thicker or darker after receiving dermaplaning treatment. 
How often should I receive a dermaplaning treatment? 
To maintain optimal results, we recommended treatment every four weeks. Treatment time can vary between each patient as the rate of hair growth can vary. 
Book Now
What Our Clients Say
"Dermaplaning is my favorite facial treatment! I have dark hair and it grows down my face. After getting dermaplane, I was shocked to see how visibly brighter my skin was. I cannot go without it!" -Taylor L.
"After talking to my provider, I decided to add dermaplaning onto my chemical peel. I have had multiple peels in the past but never after a dermaplane. I could tell this one absorbed so much better and my peel was more effective." -Grace B.