09 Sep

Treat to Complete with Elite

CoolSculpting® is a non-invasive fat reduction technique using Cryolipolysis to freeze and eliminate fat cells for good. Prior to each CoolSculpting® treatment, our Body Contouring Specialist will consult with you to determine if you are a candidate and develop a personalized treatment plan. Following your CoolSculpting® treatment, your body will naturally eliminate fat cells in the treated area. CoolSculpting® is FDA cleared for 9 areas on the body consisting of:
submental (under the chin) 

flanks

abdomen

thighs

 

bra fat

upper arms

back fat

banana roll (below the buttocks)
With little to no downtime, CoolSculpting® makes an excellent option for those looking to target stubborn pockets of fat.
Book Now
What is CoolSculpting®?
CoolSculpting® is the world's #1 non-invasive fat-reduction procedure. It is an innovative way to contour your body by freezing unwanted fat away without surgery and little to no downtime. Once treated, your body will naturally eliminate the dead fat cells.
How much does CoolSculpting® cost?
CoolSculpting® is tailored to every individual's specific body and goals. Complimentary consultations are available in office to determine if you are a candidate for CoolSculpting® and to provide you with a full customized treatment plan and quote.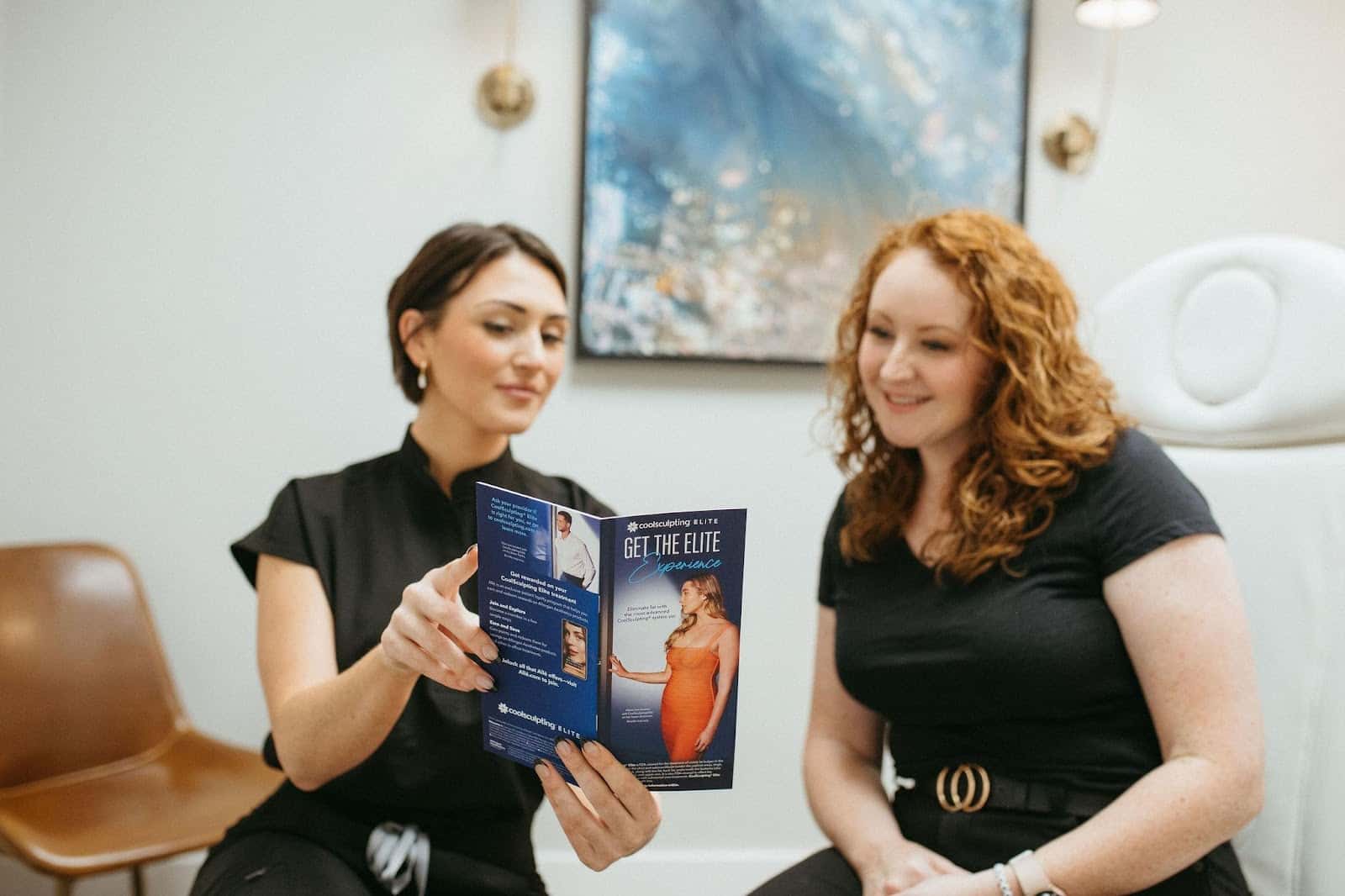 What is the downtime with CoolSculpting®?
There is little to no downtime with CoolSculpting®. Majority of patients will have numbness and slight tenderness in weeks following the procedure, but should be able to return to regular activities immediately post treatment.
Does CoolSculpting® hurt?
Most patients tolerate CoolSculpting® very well. The treated area will feel extremely cold and may have a slight burn upon initiation of treatment, but will subside within 5-10 minutes. Post treatment, your provider will perform a 2-minute post massage to the treated area. Most patients describe this as the most uncomfortable portion of your treatment. 
When can I expect to see results from my CoolSculpting®?
You can expect to see results in as little as 30 days from your CoolSculpting®. However, the treated fat cells are continuing to die for 30-90 days post treatment and most patients need at least 2 treatment sessions to achieve desired results. 
How long will my CoolSculpting® results last?
CoolSculpting® is permanent. Once those fat cells have been treated, they are gone for good. Therefore, theoretically if you were to never gain weight, those fat cells will not return. However, keep in mind you do still have fat cells remaining in your body, meaning CoolSculpting® does not keep you from being able to gain weight. If you do gain weight post CoolSculpting®, it is likely you will not gain weight as significantly in the treated area due to having fewer fat cells. 
Book Now
What Our Clients Say
"I was blown away by my results! I've always struggled with bra fat no matter how much weight I lost and was hesitant to try CoolSculpting®. Needless to say, I am so glad I did."
"I cannot speak highly enough of my experience at Brooke Nix Medical Aesthetics. I was in the office for around 3 hours for my CoolSculpting® appointment. They made sure I was completely comfortable the entire time by providing snacks, drinks, Netflix, and my results turned out better than I even hoped for!"
"As someone who has had multiple children and no time for surgery, I was so excited to try CoolSculpting® as a non-invasive option to treat my abdomen. Aubrey and staff were so knowledgeable, efficient, and helped me achieve the results I was hoping for. Couldn't be happier!"